Every year I see a ton of articles on predictions for 2023. Some I agree with, some I don't, and many are wrong at the end of the year. However, it's still important to try to peer into the future and estimate what's to come. Some of my favorite articles are futurists, specifically those providing long-term trends on where bleeding-edge technologies will go, like the metaverse and web3 concepts. I'm bearish on them for next year, but some articles I've read are much more bullish on where the technology will go. We also have the effects of the war, chip shortages, a ton of new stealth startups, the pandemic that hasn't fully reached an endemic status, a potential recession with an unknown magnitude, and many other things that will shape the year. The last three years have been a little crazy to predict, so let's think more about the considerations for strategy in 2023:
Budgets Rule
A recent Gartner poll showed that CIOs expect their budgets to increase by 5.1%, which will not overcome inflation of 6.5%. Your best bet is to operate as you took a 1.5% cut. Because of this, value is king. Projects that accelerate to produce faster returns to the bottom line will get attention. Acceleration usually means cloud and analytics will be up at the top to feed speed to market and information needs for business strategies. AI has shown a decrease in spending, yet still increasing, which happened during the early part of the pandemic. Companies will tighten the pursestrings of innovation when the economy is in an uncertain state, so be prepared to have your innovation office prioritize monetization, cost cutting, and automation. So it might be time to kill that digital transformation initiative you've been mulling on for four years and have yet to show real progress.
The question I would ask myself here is, "how do I create a prioritization model that hits the budget and maximizes early wins?"
Embrace Transparency
There are several articles you can find about transparency within the use of data. Building transparency is ultimately about building trust. For CIOs trying to help their organizations become more data-driven, embracing transparency in how all aspects of the data strategy work is critical. This includes investing in data governance to ensure confidence in the data. Data governance is a crucial enabler in building trust for the business and empowering users with great data products.
Think about transparency beyond governance as well. Look at work intake/prioritization, model transparency, costs, and budgets as part of being more transparent. Depending on how your organization is set up, let the business set more priorities regarding data work. This includes quality work in governance and innovations as well.
The question I would ask myself on transparency is, "Do my peers and business units feel like they know where I'm headed and how I'm getting there, or do I need to engage them more?"
Talent and Skill Demands
Regardless if we lose some jobs in 2023 during the recession or if there's growth, there still needs to be more people to fill positions. Companies have pushed for more in-person work in fear of losing their culture, which I completely understand as a student of organizational and cognitive leadership. Corporate guidance may be on-site work, but the tech community will continue to wield more power here than their counterparts in other areas. I've already seen companies that went back into the office reverse on some roles like cyber and data.
CIO/CDO/CTO's can get creative here. An in-house team must run only some aspects of the business. Note that your leaders might tell you that they need them for more than they do, but it's not always accurate, and it should be challenged. Consultants, service providers, contractors, and other flex capacity staffing options should be part of your exploration for 2023 if you still need to put a model in place. Reserve salary expenses for those tasks that create value for the organization, and look towards opex for those things that are more routine.
I would ask myself, "Do I have the talent I need, and if not, what do I need to do to capture the right talent at the right time?"
Happy 2023! This picture below is AI generated! Stay tuned for articles on that!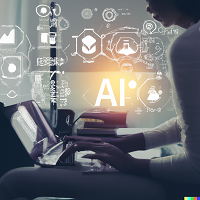 References:
https://www.informationweek.com/strategic-cio/cios-face-it-spending-squeeze-security-woes-higher-expectations-in-2023